Exchange EU driving licence to UK
If you already have a European driving license that is issued in Spain, you do not need to change to the UK Driving License. But put to integrate, I've done this week, so since I'm going I'll explain if anyone could be interested. Here the typical questions if you are Spanish. Exchange EU driving licence to the UK
How long can I drive in the UK with the EU driving license?
Well, if you already have the typical pink card with the European Union flag and the "ES" of Spain, you can use it in the UK until age 70 or for 3 years after becoming a resident with a British passport, which lasts longer.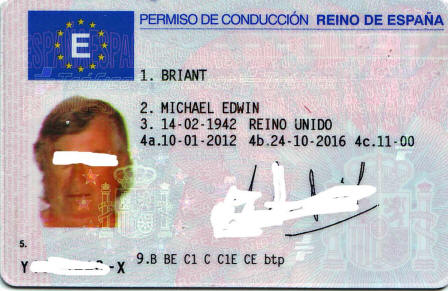 Exchange EU driving licence to the UK
In which cases is it recommended to change to the UK license?
Owning the UK driver's license has some small advantages:
It can be used as an ID or " proof of identity "since there is no British DNI to use as in Spain.
Some insurance companies in Great Britain apply discounts when insuring a vehicle here. And they are quite expensive.
What steps should I follow to make the change from the European license to the one in Great Britain?
Request the form D1. You can do it online:  www.gov.uk/dvlaforms
Include your driving license from Spain (the pink with the format of the European Union).
Include a passport / passport photograph.
Send the original ID or Passport. They will return it with the new driver's license.
Pay £ 50 by check or money order (in a PostOffice you can do it) in the name of 'DVLA, Swansea'
Send it all to DVLA, Swansea, SA99 1BT
The new card will arrive in about 15 days.
Important things before doing the procedures
You must know that you will NOT be sent back your European driver's license. Keep that in mind.
You do not have to pass any exam, just send the documentation.
You will NOT be able to change your old European license, it depends on the general direction of traffic. Some countries give you an exam.
The new UK license will have the date of your previous license, so you do not lose seniority for the subject of insurance.
Exchange EU driving licence to the UK
In case you are from Andorra, your card has been issued outside the European Community, you drive trucks and other cases of which I do not speak in the article, please read this article in which you will find more information:
To do the paperwork, you can check the official website of the UK for the change of the outside card for a British one:
Spanish Language
Si ya tiene un permiso de conducir europeo que se expide en España, no necesita cambiar el permiso de conducir del Reino Unido. Pero para integrarlo, lo he hecho esta semana, así que como voy a ir, explicaré si alguien podría estar interesado. Aquí las preguntas típicas si eres español. Cambio de permiso de conducir de la UE al Reino Unido.
¿Cuánto tiempo puedo conducir en el Reino Unido con el permiso de conducir de la UE?
Bueno, si ya tiene la tarjeta rosa típica con la bandera de la Unión Europea y el "ES" de España, puede usarla en el Reino Unido hasta los 70 años o 3 años después de convertirse en residente con un pasaporte británico, que dura más tiempo.
¿En qué casos se recomienda cambiar a la licencia del Reino Unido?
Poseer la licencia de conducir del Reino Unido tiene algunas pequeñas ventajas:
Puede usarse como una identificación o "prueba de identidad", ya que no hay un DNI británico para usar como en España.
Algunas compañías de seguros en Gran Bretaña aplican descuentos al asegurar un vehículo aquí. Y son bastante caros.
¿Qué pasos debo seguir para hacer el cambio de la licencia europea a la de Gran Bretaña?
Solicite el formulario D1. Puedes hacerlo en línea: www.gov.uk/dvlaforms
Incluye tu permiso de conducir de España (el rosa con el formato de la Unión Europea).
Incluya una fotografía de pasaporte / pasaporte.
Enviar la identificación original o pasaporte. Lo devolverán con la nueva licencia de conducir.
Pague £ 50 con cheque o giro postal (en una oficina de correos que puede hacerlo) a nombre de 'DVLA, Swansea'
Envíelo todo a DVLA, Swansea, SA99 1BT
La nueva tarjeta llegará en unos 15 días.
References